9/24/14
Thailand Wins first ever Gold in 17th Asian Games.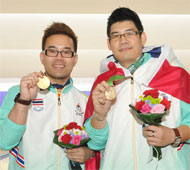 Ebonite Game Breaker 2's, along with the Columbia 300 Smack Down were used to win medals at the 2014 Asian Games.
Yannaphon Larpapharat took the gold medal in the men's singles event, while teammate Sithiphol Kunaksorn won the Bronze in the same.
The gold win was Thailand's first at the 17th Asian Games, held in Incheon, South Korea.
Read More Here... http://www.abf-online.org/results/17thasiang-res.htm#MOSglSqB